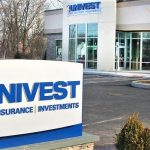 Univest Financial Corp. said it plans to close eight of its 39 retail branches, or 20% of its footprint, as part of an optimization plan that has been accelerated by Covid-19.
Since 2015, the Souderton-based parent of Univest Bank has consolidated 15 locations largely in its traditional home base of Bucks and Montgomery counties while opening 13 locations largely in new markets such as Philadelphia, Lancaster, Berks, Lehigh, York and Cumberland counties.
CEO Jeff Schweitzer said Univest recently looked at its branch footprint and chose to close locations that were within five miles of another as well as analyzing financial metrics and foot traffic for each.
"We looked at deposits," Schweitzer said. "But we closed some that have a good amount of deposits because we felt there was more potential for growth in other locations."
Univest (NASDAQ: UVSP) will incur a one-time, pre-tax cost of $1.7 million, which will primarily be recognized in the fourth quarter of 2020. The estimated pre-tax annualized savings will be approximately $2.4 million.
The closures will take place in two phases with the pruning largely being conducted within the bank's traditional footprint.
On Jan. 29, 2021:
10 W. Broad St., Souderton — This location will have lobby access permanently closed with the exception of appointment-based access to safe deposit boxes. The night drop and ATM will also remain.
415 Main St., Schwenksville – Will be closed.
1041 York Road, Warminster – Lobby access will be closed, while drive-thru access, the ATM and night drop will remain. In addition, once renovations are complete, personnel from the bank's subsidiary, Univest Capital, will be relocated from their current location in Bensalem to Warminster. This location was inherited in the 2016 acquisition of Fox Chase Bancorp.
1 Fitzwatertown Road, Willow Grove – Will be closed. This location was inherited in the 2016 acquisition of Fox Chase Bancorp.
On June 30, 2021:
191 W. State St., Doylestown – Will be closed with staff and operational capability being relocated to the bank's existing Bucks regional office in Doylestown.
23 W. Highland Ave., Chestnut Hill – Will be closed. This location was inherited in the 2015 acquisition of Valley Green Bank.
5829 Easton Road, Plumsteadville – Will be closed.
545 Constitution Ave., Perkasie – Will be closed.
Schweitzer said Covid-19 accelerated the existing trend away from brick-and-mortar branching and toward online and mobile options. He said in-branch transactions are down 21% from 2019. At the same time, Univest has invested in several new digital offerings and unveiled them to customers over the past year:
Secure Chat – 41% of service center customer contact now occurs through this chat function unveiled last year.
MyCard Rules – Gives customers more control over their debit cards, including merchant and spending categories.
Money Manager – Personal financial management tool unveiled on June 30, which provides functionality such as spending category tracking, aggregated account views and a net worth summary; more than 3,450 customers are utilizing the tool without awareness raised by marketing.
OpenAnywhere – Digital deposit account opening system launched on July 17 that allows customers the ability to open consumer checking and savings accounts and to transact against their account immediately. The bank said it has opened 257 new accounts so far, 22% of which were new customers, without the benefit of marketing.
Zelle – A person-to-person payment mechanism similar to Venmo will be added to the bank's mobile app in November.
While the $6 billion-asset Univest has been consolidating numerous branches, it still has plans to open new ones — with the focus on its westward expansion. In the works are locations in West Lawn, York and Mechanicsburg.
The pace of bank branch closings has picked up significantly during the pandemic. Between annual FDIC reports on June 30, 2019 and June 30, 2020, there were just over 2,642 U.S. bank branch closures and nearly 1,179 new branch openings for a net decline of 1,463 branches. Both the number of closures and the number of new branches are the highest in the last 10 years, and several banks with major Philadelphia-area operations are the most avid consolidators.
Wells Fargo Bank is in the process of closing hundreds of branches as part of a broader cost-cutting program. PNC Bank is undergoing a similar transformation. Several of Univest's regional bank peers have engaged in similar strategies. Fulton Bank recently announced plans to cut 10% of its footprint.
*Articles Courtesy of Philadelphia Business Journals
For more information about Philadelphia retail space for sale or lease in Philadelphia or about any other Philadelphia properties for sale or lease, please contact WCRE at 215-799-6900.
Wolf Commercial Real Estate, a full-service CORFAC International brokerage and advisory firm, is a premier  Philadelphia commercial real estate broker that provides a full range of Philadelphia commercial real estate listings and services, property management services, and marketing commercial offices, medical properties, industrial properties, land properties, retail buildings and other Philadelphia commercial properties for buyers, tenants, investors and sellers.
Please visit our websites for a full listing of Philadelphia commercial properties for lease or sale through our Philadelphia commercial real estate brokerage firm.