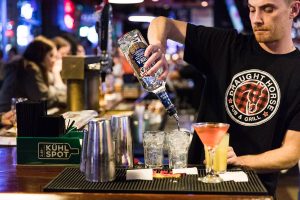 Draught Horse Pub & Grill, a go-to watering hole for Temple University students and faculty for the last 20 years, is permanently closing this month, Director of Operations Mike Frost told the Business Journal on Monday.
The North Philadelphia concept, known for an extensive beer menu and pub food like tacos, burgers and sandwiches, will close by Feb. 17, Frost said.
The staple Temple eatery has operated just off the school's campus at 1431 Cecil B. Moore Ave. since it opened in February 2001. Since that time, the bar has been a tried-and-true spot for students looking to watch a sports game, take a break from studying or participate in activities like late-night karaoke.
Draught Horse may potentially "try to relocate and reopen at some point in the near future," though plans remain up in the air, Frost said. Temple University owns the building.
"We just couldn't come to real terms on an effective long-term lease and that's the gist of it," he added.
Having occupied the location since its inception, Draught Horse essentially operated under its original lease agreement.
With the lease finally expiring at the end of February, the restaurant was again "seeking long-term and [was] only offered short-term," Frost said. In a Covid-19 world, short-term lease agreements are particularly "not advantageous" as restaurants struggle with continued capacity limitations, social distancing guidelines and other restrictions aimed at curbing the spread of coronavirus.
Draught Horse is part of the portfolio held by local hospitality company Stable Investment Group, formerly known as Frog Spring Holding LLC. The group's other businesses include two New Jersey locations of taco-and-margarita-bar concept Taco Caballito in Logan Township and Cape May, the latter of which adjoins with a gastropub from the group dubbed Iron Pier Craft House.
In the short term, Stable Investment Group plans to "continue investing" in the Taco Caballito brand "and moving that brand to the forefront of our planning dynamics," Frost said.
Draught Horse's closure comes on the heels of popular Temple University-area sandwich shop franchise Lee's Hoagie House, located across the street at 1428 Cecil B. Moore Ave., also permanently closing. Earlier in the fall, neighboring pizza shop Pazzo Pazzo at 1614 Cecil B. Moore Ave. filed for Chapter 7 bankruptcy and was taken over by new ownership.
Foot traffic has dipped around the North Philadelphia school's campus as Temple operated primarily online for the bulk of 2020 due to the Covid-19 pandemic. The school will continue to predominantly operate virtual classes during the spring 2021 semester, though "expanded in-person class instruction" will take place, according to the university's website.
In October, Frost told the Business Journal that the Draught Horse had totaled about 30% of typical pre-pandemic sales year-to-date thanks to a strong January and February before the health crisis took hold. On top of the diminished day-to-day presence of students and faculty, another major blow to business came via lost revenue from events like holiday parties, fundraisers, or outings typically held by different departments at the university.
At that time, Frost also speculated that less than 33% of college restaurants and bars could survive the Covid-19 pandemic and subsequent switch to virtual instruction.
Other restaurants around Philadelphia-area colleges have met a similar fate during the pandemic, including Italian eatery Zavino University City. The restaurant – normally a hotbed for students, parents and faculty from the University of Pennsylvania and Drexel University – has been shuttered for months.
*Article courtesy of Philadelphia Business Journal
For more information about Philadelphia retail space for sale or lease in Philadelphia or about any other Philadelphia properties for sale or lease, please contact WCRE at 215-799-6900.
Wolf Commercial Real Estate, a full-service CORFAC International brokerage and advisory firm, is a premier Philadelphia commercial real estate broker that provides a full range of Philadelphia commercial real estate listings and services, property management services, and marketing commercial offices, medical properties, industrial properties, land properties, retail buildings and other Philadelphia commercial properties for buyers, tenants, investors and sellers.
Please visit our websites for a full listing of Philadelphia commercial properties for lease or sale through our Philadelphia commercial real estate brokerage firm.